T-type, D-type diaphragm coupling
---
T-type, D-type diaphragm coupling
---
Product features
The diaphragm coupling relies on the elastic deformation of the diaphragm to compensate for the relative displacement of the two axes, and is a high-performance flexible coupling with strong metal elements.
1. The ability to compensate for the misalignment of the two axes is strong, and the angular displacement can be doubled compared with the tooth coupling, and the reaction force is small and the flexibility is large when the radial displacement is large, allowing a certain axial, radial and angular displacement.
2. It has obvious shock absorption effect, no noise, no wear.
3. Adapt to high temperature (-80~ +300) and work in harsh environments, and can operate safely under shock and vibration conditions.
4. High transmission efficiency, up to 99.86%. Especially suitable for medium and high speed high power transmission.
5. Simple structure, light weight, small size, easy to assemble and disassemble. The machine can be assembled and disassembled without moving the machine (refers to the type with an intermediate shaft) and requires no lubrication.
6. It can accurately transmit the speed, run without rpm, and can be used for precision mechanical transmission.

Applications
Widely used in a variety of mechanical devices of shaft drive, such as water pumps (especially high-power, chemical pumps), fans, compressors, hydraulic machinery, petroleum machinery, printing machinery, textile machinery, chemical machinery, mining machinery, metallurgical machinery, aviation (helicopter), ship high-speed power transmission system, steam turbine, piston power mechanical transmission system, tracked vehicles, and generator sets high-speed, high-power mechanical transmission system, after dynamic balancing applied to high-speed transmission shaft system has been more common.

T-type, D-type diaphragm coupling
The structure is simple and easy to disassemble, the size is small, the weight is light, the transmission torque capacity is large, the absorption unit is misalignment, the noise reduction and vibration reduction are safe and reliable, and the maintenance-free life is long. Suitable for all kinds of pumps, blowers, mills, rolling mills and other rotating equipment.
Its structural type is shown in Figure 2.1 and Figure 2.2, and the technical parameters and main dimensions are shown in Table 2-1.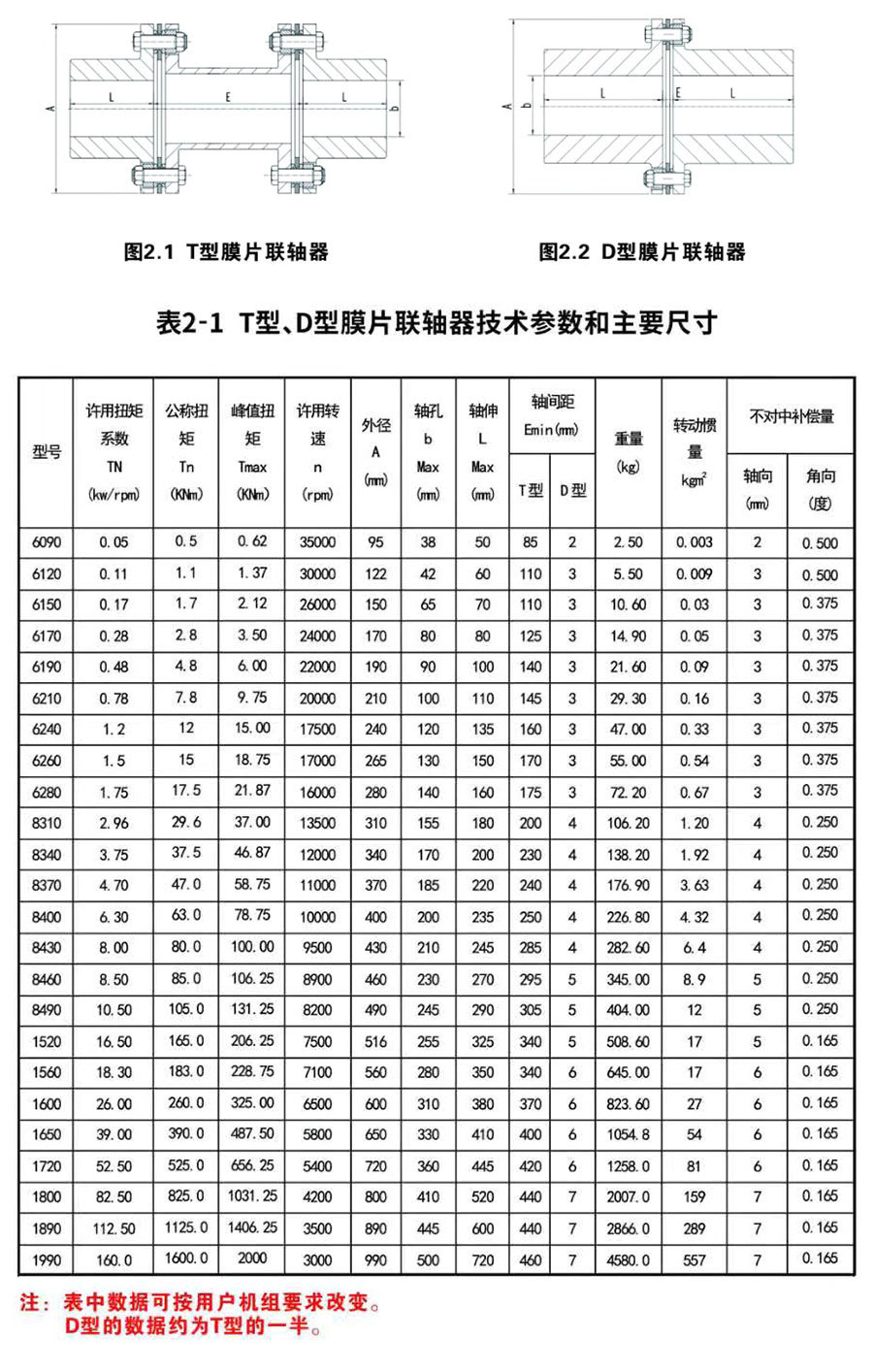 Related Products
---
undefined
Follow us
Service Hotline
Add. : 34A No.1, Kaifa Avenue, Economic Development Zone, Shenyang City
Fax : 024-25308993
E-mail : sincflex@vip.163.com
---
copyright © 2022 Shenyang Shenke Power Machinery Co., Ltd.